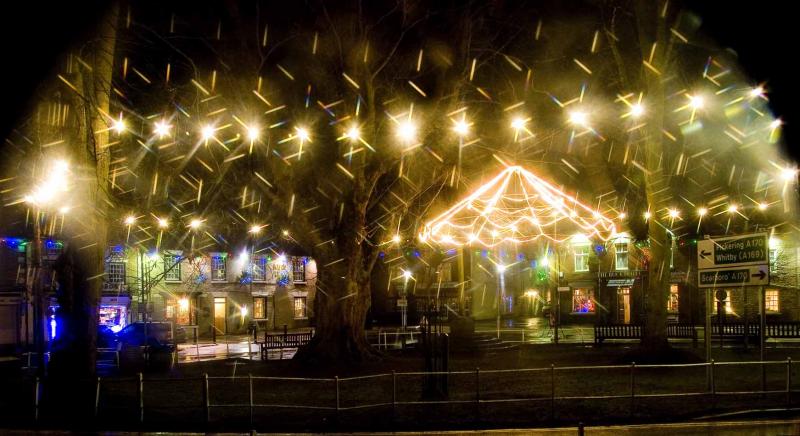 The Village Christmas Lights are switched on the first Saturday in December. This year switch on will be SATURDAY 2rd DECEMBER 2017.
Santa will arrive at 5pm in his usual unique transport. The Lights will be switched on at 6.00 pm.
However things will be underway from around 4.30 pm. with a variety of seasonal stalls serving hot food and mulled wine in the area around The Green. This year we are planning a new stall which will offer you the opportunity to play the most unusual games! There will also be the regular musical contributions from the E.A.S.Y. Band and the local school choir. Santa Claus will be arriving at 5pm and will be around for the rest of the evening with gifts for all the children who visit his grotto.
Preparation for Switch On
Work has already begun preparing for the installation of the lights. There will be some new features this year as well as the old favourites. The installation itself will begin around the end of September. That may seem very early but we try to spend only a couple of mornings each week so that it remains fun and not too strenuous but also allows for the vagaries of the weather.
There are over 4,000 bulbs and almost a mile of cable so it takes in excess of 1,000 man-hours to put on the annual display of Christmas lights in the village. In addition to the 25 or so volunteers there is additional support from a large number of businesses and individuals in the village.
Thank you for help last year
Last year the following all played their part:
All Saints' Church, Balderson's Bakery, Bridgefoot Guest House, The Buck Inn, Cedar Barn, The Chocolate Factory, Clothes4Comfort, The Ginger Pig, BW & DJ Glaves & Sons, The Hall, Hunters of Helmsley, The Hill Institute, Lavenders Tea Rooms, Maria's Wool Shop, Mathewson's Classic Car sales, Mennell Motors, MKM Building Supplies, The New Inn, Trustees of The Old Grammar School, Pickering Musical Society, Ryedale Carpets, Savills Estate Agents, The Village Scarecrow Committee, Thornton le Dale C of E Primary School, Thornton Dale Fisheries, The Village Hall, Wardill Brothers, Warrington House Coffee Shop, Brian Wright Plant Hire and Thornton le Dale Chemists. Thanks too to Oliver who helped out in Santa's Grotto.
There was also a large number of individuals, too many to mention, both throughout the year and also on Switch On Night itself. Many others have assisted anonymously. We could not have done it without you.
The purpose of putting together this list is to acknowledge that the "Lights" is very much a community effort.
In putting together a list of supporters there is always a danger of missing out someone. If I have missed anyone out I apologise. Please drop me an e-mail and I will correct the acknowledgement.
Want to know more?
Such is the quality of the display that they have featured on BBC Look North. (Click here to see us on the BBC)
You can also follow us on Twitter.
Chairman - Dave Andrews
Secretary - Sarah Crabtree
Treasurer - Margaret Binns
Preparation for Switch On – Can You Help?
The display and Switch On Night activities are entirely put on by a team of volunteers. However we are getting older! We would really appreciate some additional help, particularly on Switch On weekend. If you are able to contribute just a few hours on the Saturday morning to help set up the stalls, Saturday evening to help dismantle or Sunday morning to help put things back in to storage we would really appreciate your help. If you are interested in finding out more please e-mail Sarah Crabtree at crazylegscrabtree@outlook.com. We would love to hear from you and it is a great way of adding to the village community spirit.
You can contact us by email: crazylegscrabtree@outlook.com
Alternatively, contact any of the following, by phone: -
Dan Dwyer: 01751 474464
Martin Sanderson: 01751 474516
Roger Wilkinson: 01751 474775
Tim Lamb: 01751 473359