Wardill Bros
Wardill Bros, Newsagents, General Stores and much, much more!
Established by Thomas Wardill around 1856 and still run by his family to the present day. Wardill Bros has evolved over more than 150 years, into a small department store, catering for the needs of local residents and visitors alike.
On entering the store, you will be surprised at the range of products on offer.
Being central to the village, we are an ideal stop-off point for your everyday items such as newspapers, magazines, essential daily provisions, tobacco products and confectionery. For those with time to browse, we offer and wide range of products including gifts and toys, plus services such as ATM cash machine, Carpet cleaner hire, National Lottery and mobile phone top-ups. For those who require it, we will deliver large items within the village, free of charge.
Situated in the store is the North York Moors National Park Information point and our friendly staff are always willing to offer advice and information about the local area. Residents' annual car parking permits are available on request.
Whatever the time of year, whether you are a local resident or a visitor, you will find all the everyday essentials available in store. Listed below are a few of the goods and services we provide but please pay us a visit to explore the full range or contact us with your enquiry.
Newspapers & Magazines: Alongside the full range of daily newspapers we stock a huge range of general interest and specialist magazines. Home deliveries (subject to a small charge) are available every day within the village and to Wilton, Allerston, Lockton and Levisham. 'Shop saves' and subscription plans are catered for. Please enquire for details of your specific requirements.
Books, Maps, Guides & Information: We stock a wide range of local maps and guides for the motorist, cyclist and walker supported by a 'local knowledge' second to none. We are the National Park nominated Information Point for the village and surrounding area.
Confectionery & Tobacco: On our shelves can be found all major brands of sweets and confectionery, in bars, bags & boxes. We also have a wide range of gift lines specific to the village and surrounding area, including Fudge & toffee, Jams, marmalades, chutneys and biscuits. You will find our range includes delicacies from the continent. Swiss and Belgian chocolates, Austrian Marzipan and real Turkish delight to name but a few.
We keep a wide range of cigarettes and tobacco along with associated products, rolling papers, filters and lighters.
Hot & Cold Drinks, Bread, Milk & Larder Essentials: Just the thing on a really hot day or for that catering emergency! A wide range of ice cold drinks in a variety of sizes from lunch box fillers to take-home packs, well known brands. Tea, coffee, milk, sugar and other essentials.
Chemist sundries & toiletries: For those little emergencies, forgotten essentials or everyday needs we keep a wide range of 'over the counter' medicines, toiletries, and hair care products. From toothpaste to toilet roll, hot water bottles to hand wash all at competitive prices.
Greeting Cards & Stationery: Thousands of greeting cards for almost every occasion and interest, from major high street names to local producers all carefully selected to convey 'that special message'. Stationery for home, office or school, disposable tableware, kitchen sundries and special napkins, come and browse there is bound to be something you'll need soon.
Toys & Games, Gifts & Jigsaws: Outdoors or indoors – toys and games for the young and the young-at-heart. Our range includes well known brands: Wow, Kitfix Swallow, Orchard Toys and Gibson Games as well as imported and 'pocket money' toys. A gift for a special occasion or just a toy to play with and enjoy, we're sure you'll be pleased with our choice.
Hardware & Housewares: Fittings & fixings, fillers & adhesives, buckets & bowls, brushes & tools, cookware & tableware, small electrical items, large doormats, paint (mainly white – we have to stop somewhere) & varnish – just a few things to give some idea of the range we keep .
Garden & Pet Supplies: From the forgotten dog lead or bowl to food and bedding, Wild bird feed and containers. A small range of dog and cat toys to keep both pet and owner fit and exercised and a few vetinary products for that 'off day' or the uninvited guests.
Home Heating: Coal, Logs and sticks, fire lighters for those of us that weren't Scouts or Guides. We have Scuttles, log baskets and a range of fire irons to cope with every eventuality and maintain the fireside. Toasting forks and chestnut roasters, for that romantic night in by the fire, all the things to make those long winter nights (and some short summer ones) a pleasure.
All the above, regular 'special offers', everyday value, and a warm welcome make calling at Wardill Bros' a 'must do' part of a visit to Thornton-le-Dale.
Special offers
Free gift with every item purchased
WOW toys – Free gift with every item purchased
Free game with every item purchased
Orchard toys – Free game, with every item purchased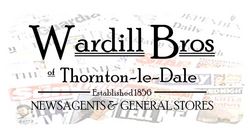 Business name:
Wardill Bros
Contact person:
John Garbutt
Address:
The Square Maltongate
Thornton-le-Dale
YO18 7LF
Phone: 01751 474335
Website:
http://wardillbros.co.uk
Email: