Marie Curie
Marie Curie Cancer Care
Thornton le Dale and Pickering Fundraising Group
Fundraising groups raise money for the charity, by organising collections, activities and events; and receiving donations on Marie Curie's behalf. Fundraising Groups operate right at the heart of the community, and play vital role in helping to deliver more care locally; as money raised within our area (North Yorkshire and South Tees) is used to support care within it.
Marie Curie Cancer Care provides high quality nursing, totally free, to give people with terminal cancer, and other illnesses, the choice of remaining in their own home, being supported by their families. There are more than 2,000 Marie Curie Nurses in the UK caring for about 50% of all home treated cancer patients, enabling them to have the choice to remain in familiar surroundings. They work through the night, or during the day, to provide care for patients. They also provide practical and emotional support for carers and families at what can be an exhausting time.
Marie Curie also has nine Hospices across the UK and the charity is investing more than £4 million per year in Research and Development that will lead to improved care for patients at home and in hospices.
More volunteers are needed to help the recently formed Pickering and Thornton le Dale Fundraising Group; which raised over £9000 in its first year (see http://www.gazetteherald.co.uk/news/9366590.Thornton_le_Dale_family_raise_funds_for_cancer_care_charity/ ). By giving just a few hours of your time you could help someone in our village, or local town. Perhaps you enjoy baking or crafting and could donate items for sale, or for tombolas or raffles? Any help would be appreciated. All of volunteers find that the time that they give proves to be very enjoyable.
We are a registered charity: Registration Number - 207994 (England and Wales) SCO38731 (Scotland)
For more information about getting involved, please contact Shirley Pitt on 01751 473375 or send an email using the form below.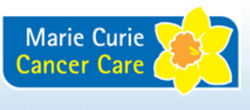 Business name:
Marie Curie
Contact person:
Shirley Pitt
Address:
C/O Marie Curie Cancer Care Daffodil House, Halifax Way, Elvington Airfield,
York
YO41 4AU
Phone: 01751 473375
Website:
http://www.mariecurie.org.uk
Email: